$2,600.00 Raised of $2,500.00 Goal
As a bit of twist in this 'Northeaster' that aligns Drive Toward a Cure with Rally Across America, we're calling on car enthusiasts for DRIVE-IN CHATS with co-ambassadors Jeff Ehoodin and Alexander Davidis of CARCULTURE.TV who are spearheading 'Conversations for a Cause,' and benefitting Parkinson's Disease.
Sign up, drive up and share the provenance of your favorite 'ride.' Play a supporting role that continues beyond the personal, with a socially sharable video. The Northeast is a car collector haven and the goal is to connect with automotive enthusiasts across the Tri-State area and the nation. Highlight that passion by telling your driver stories for the camera.
Take an hour on the Saturday of Thanksgiving weekend to MAKE YOUR CAR A STAR AND BRING PEOPLE TOGETHER: Demonstrate your enthusiasm for car culture to a broader audience while supporting a valuable cause during this weekend of gratitude.
All participants will receive a commemorative windshield decal, a few goodies for themselves and their car – and, of course, a custom video clip of their car.
As part of the larger Rally Across America effort within the car community to raise funds for locally-based organizations nationwide – our event will support Drive Toward a Cure, a 501(c)(3) non-profit that has established an "Access to Care" program aligning with the Parkinson's Foundation and six of their regional Centers of Excellence – including the Division of Motor Disorders at Columbia University (NYC) which will be the beneficiary of this event.
The registration fee is a minimum $100 tax-deductible donation, with goodie bags and a raffle prize provided by our sponsors. Participation is very limited and will follow socially distanced guidelines. Once registration is confirmed we will book your timeslot and provide location details.
Thank you to our Drive-In Chat sponsors: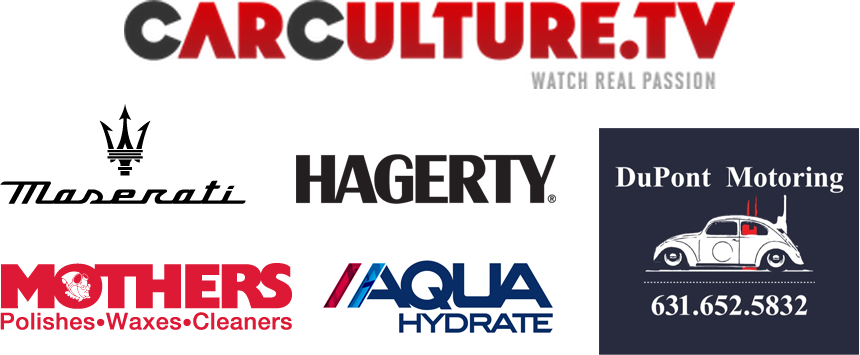 For More Information
Jeffrey Ehoodin
jehoodin@gmail.com

Sorry - Registration Is Closed!
What 's the Processing Fee?
Drive Toward a Cure is charged a fee for every transaction. In order to maximize our fundraising in support of Parkinson's Disease research and patient care, we are asking that registrants agree to cover this fee. It is your option, however, and you may decline to cover the extra fee. We won't think any less of you If