jQuery(document).ready(function(){ jQuery("#donation-amount-text").html("<span style=\"color:red;\">A donation is NOT required to attend this event. However, all donations in support of Parkinson's Disease research and patient care are welcome and are tax-deductible. Thank you!</span>"); });
Non-profit Drive Toward a Cure
INVITES YOU TO
PLEASE JOIN
Nicolas Hunziker of Hunziker Design
and
Frederic Gasser of BRM Chronographes
ON
Thursday, April 25th, 10am - 4pm
AT THE
Hunziker Design Open House
4040 Spencer St., Unit B , Torrance, CA 90503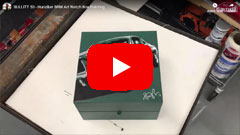 Art Watch Box Painting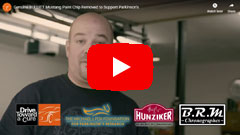 We'll be presenting the ONE-OF-ONE "BULLITT 50 Chronograph" to its lucky winner who was 1 of 1,011 entries from 32 states and 12 countries – so be on hand at NOON when we bestow the beautiful handpainted timepiece that has raised more than $25,000 for Parkinson's Disease.
With the support of Ford Motor Company, Warner Bros. Studios and Chad McQueen and the McQueen estate, Drive Toward a Cure raffled off the BRM Chronographes/Hunziker Designed "Bullitt 50 Chronograph", with all proceeds benefitting the Michael J. Fox Foundation in memory of Robert E. Kiernan Jr., the original owner of the famed "Bullitt" Mustang since 1974 and who was increasingly challenged by Parkinson's Disease.
This signature timepiece captures the 50th anniversary of the film, AND its body contains an actual piece of the existing car – a 1 gram paint fragment from the genuine "Bullitt" Mustang inside!
Stop by to meet the artisans behind this unique philanthropic endeavor, get to know Hunziker Design and BRM Chronographes, and support Drive Toward a Cure.
Food and beverage will be served, interviews will be available and of course, the "BULLITT 50 Chronograph" will be on display. At NOON we will present Dave Stone of Ketchum, Idaho with his new commemorative timepiece – the only handpainted Bullitt Mustang chronograph in the world!
Contact:
Deb Pollack, Drive Toward a Cure Founder
(805) 320-9248
Also visit:
Sorry - Registration Is Closed!
What 's the Processing Fee?
Drive Toward a Cure is charged a fee for every transaction. In order to maximize our fundraising in support of Parkinson's Disease research and patient care, we are asking that registrants agree to cover this fee. It is your option, however, and you may decline to cover the extra fee. We won't think any less of you If