Mark Davidson – Brand & Marketing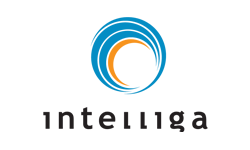 About Mark
Left to his own devices, every day Mark would: 1. Race cars. 2. Take beautiful photographs. 3. Play with his kids. 4. Go back to 1. However, life is full of compromises, so, instead, Mark comes to Intelliga to engineer brilliant solutions to client challenges.
After graduating from the University of Waterloo, which many consider the better version of M.I.T., Mark became a partner at Envise Corporation (a dot.com now in dot.com heaven) before creating Intelliga in 1999.
Mark sees his role as understanding clients' needs, creative- or program-related, and then providing elegant integrated solutions. And he thinks of himself as the oil that keeps the engine running smoothly. He loves (read: believes it's his job) to create excellent products.
Mark is grateful to have worked with a number of high-end clients in the automotive industry, including Ferrari and Maserati North America, which is how he and Deb met. In his spare time (rare, as that may be) he enjoys instructing performance driving at his local race tracks and lapping his own old-school-modified 911 SC.
Mark and the team at Intelliga are pleased to support all facets of the Drive Toward a Cure program.
Contact Mark at mark@drivetowardacure.org or (905) 820-3189 (Toronto).