Tyke Durst
Competing in the 2022 F4 U.S. Championship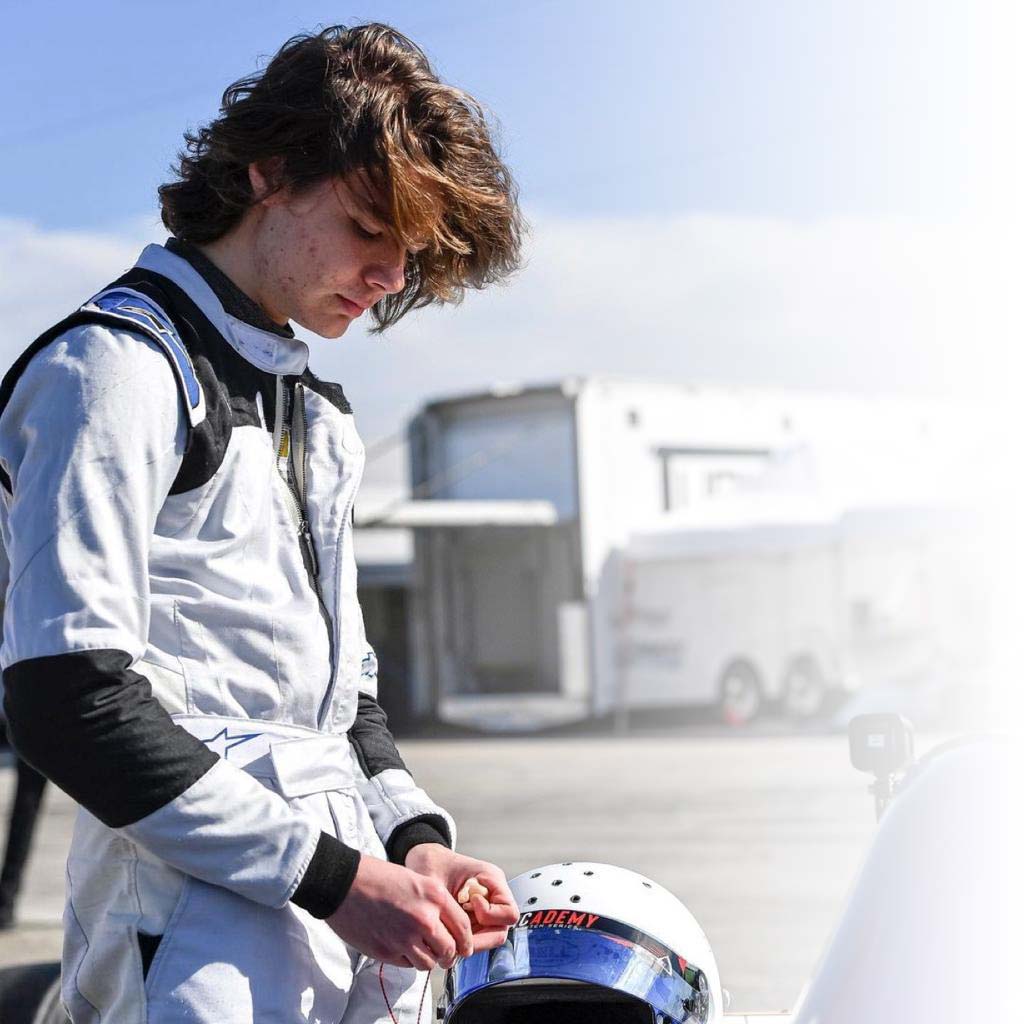 During the summer of 2022, we hope you'll join Drive Toward a Cure in cheering on Tyke Durst in the Formula 4 United States Championship!
Tyke Durst is an 18-year-old racer who has different plans than most high schoolers. On his 18th birthday his parents gave him a birthday gift of a trip to the Skip Barber Racing School in Lime Rock Park. That experience put him on a trajectory to becoming a professional race car driver. He is training to earn a spot in Formula 4 racing and has been driving in the Winter YACademy with Gonella Racing. Formula 4 is a category of open wheel racing that is intended for young drivers as an entry into the world of motorsports. It's a way to expose young talents as a step up from kart racing. The cars utilize both turbocharged and natural aspirated 4-cylinder engines and produce up to 160 bhp. The cars are capable of reaching speeds of 165 miles per hour.
Though he's one of our newer friends and supporters, the very swift Tyke Durst is raising money for Drive Toward a Cure's mission to support Parkinson's Disease research and patient care, and is hoping you will consider making a donation to his fundraising campaign! Every penny will benefit Parkinson's, and a tax receipt will be emailed to you immediately upon payment.

Formula 4 U.S. Championship
Powered by Honda
Launched in 2014, FIA Formula 4 was created to offer young race car drivers around the world the opportunity to take the first step from karting into the world of open-wheel racing. Designed to be globally recognized yet an affordable step between karting and F3, the F4 car was designed to keep costs down while providing an ideal learning tool for young drivers who have never raced cars before. The series offers more value and benefits than any other form of entry-level open-wheel racing at a low cost.
The F4 series is the fastest way for an aspiring driver to gain experience to an international racing platform. With driving training, unmatched affordability and strong manufacturer support, competitors can grow and succeed into the higher levels of motorsports.
About The U.S. F4 Car
Cost-consciousness is core to the F4 car. Domestic-based chassis, engine, and tire manufacturers were carefully selected to keep operational cost as low as possible by eliminating import duties, freight costs and time delays that are typically associated with participating in formula racing. Each manufacturer provides on-site engineers for parts and technical support for all teams and drivers.
Chassis
Built in the USA, the Crawford F4-16 chassis meets FIA homologation requirements and has passed the FIA crash test. The F4 chassis is a modern, safe, robust and highly capable carbon fiber chassis that is conducive to exceptional performance at various engine power levels.
Engine
The selected Honda F4 powerplant is based on the Honda Civic Type-R engine produced at Honda's Ohio engine plant. It is detuned to meet FIA-mandated output of approximately 160 Hp.
Join Tyke Durst's fundraising efforts for Drive Toward a Cure in support of Parkinson's Disease research and patient care! Every penny will benefit Parkinson's.
2022 F4 U.S. Championship Calendar
NOLA SpeedTour
NOLA Motorsports Park
Avondale,LA
Mid-Ohio SpeedTour
Mid-Ohio Sports Car Course
Lexington, OH
New Jersey SpeedTour
New Jersey Motorsports Park
Millville, NJ
Andy Scriven Memorial at the Mission Foods VIR SpeedTour
Virginia International Raceway
Alton, VA
Mission Foods Austin SpeedTour
Circuit of the Americas
Austin, TX