Thank you to my team at Next Level Financial Planning for supporting and helping assist while I fulfill a bucket list item.
Good morning from Muncie, Indiana! I just finished a radio interview with Matt Ray at KWAY Radio in Waverly, Iowa. You can listen here!
So far the most beautiful state has been Missouri.  We've traveled 2,350 miles. Motorcycles are purring like kittens.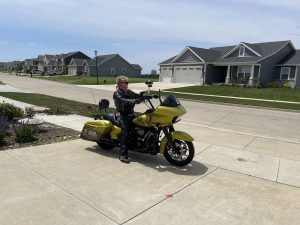 "Why Parkinson's?" is an easy question to answer. One of my besties, Dr. Kim Kidwell, was diagnosed in 2018. It was awesome to spend time with Kim at her home in Savoy, Illinois a few days ago. Love you Kim!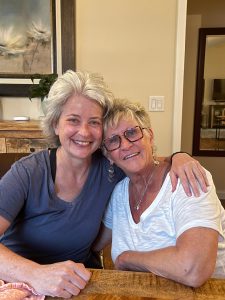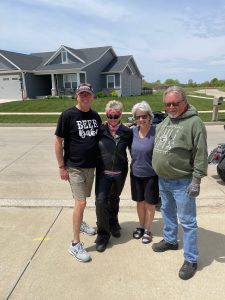 On this ride I have learned that there are so many individuals that suffer from or have loved ones dealing with Parkinson's.  We've raised $9,160 so far. That's an amazing amount with donations coming from people I don't know. Thank you to everyone.
On May 15th Mike turned 73. Great dinner and celebration was had by all. (All 3 of us)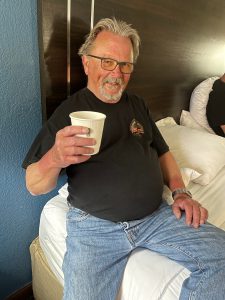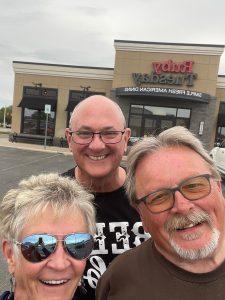 Worst weather has been strong winds in Colorado. I'm still getting over losing my glasses when the wind lifted my saddle bag lid and sucked out the case. I'm sure only road kill now.
Best part are the people we've met along the way. We walked into a restaurant in Parsons, Kansas and immediately the server, Rachel, came right over and told Mike that she thought he was her brother from California.  At any rate, Mike now has a sister.  Thank you Rachel for your contribution.
Cheapest gas so far is in Missouri. $3.99 a gallon. Most is $4.59 in Illinois.
Headed to Washington, PA today. Last nights storm is over and we should have sunshine today!