FOR IMMEDIATE RELEASE
Contact: Deb Pollack, Media Relations
(e) deb@debpollack.com (t) 805.320.9248

NON-PROFIT DRIVE TOWARD A CURE HONORS 50th ANNIVERSARY OF BULLITT — ONE-OF-ONE HAND-PAINTED HUNZIKER/BRM CHRONOGRAPH RAFFLED FOR PARKINSON'S
Automotive Fine Artist Nicolas Hunziker Designs and Paints Unique Dial to Honor Mustang Bullitt
LOS ANGELES, October 17, 2018 – Coinciding with the 50th anniversary of the original release date of the iconic movie thriller "Bullitt," on this day – October 17 – in 1968, non-profit Drive Toward a Cure has teamed with motorsports chronograph manufacturer BRM and professional automotive fine artist Nicolas Hunziker to create a one-of-a-kind timepiece to honor the film's original car – a 1968 Mustang GT 390 – the hero vehicle driven by Steve McQueen in the classic Warner Bros movie, and now owned by Nashville resident and horse farmer Sean Kiernan.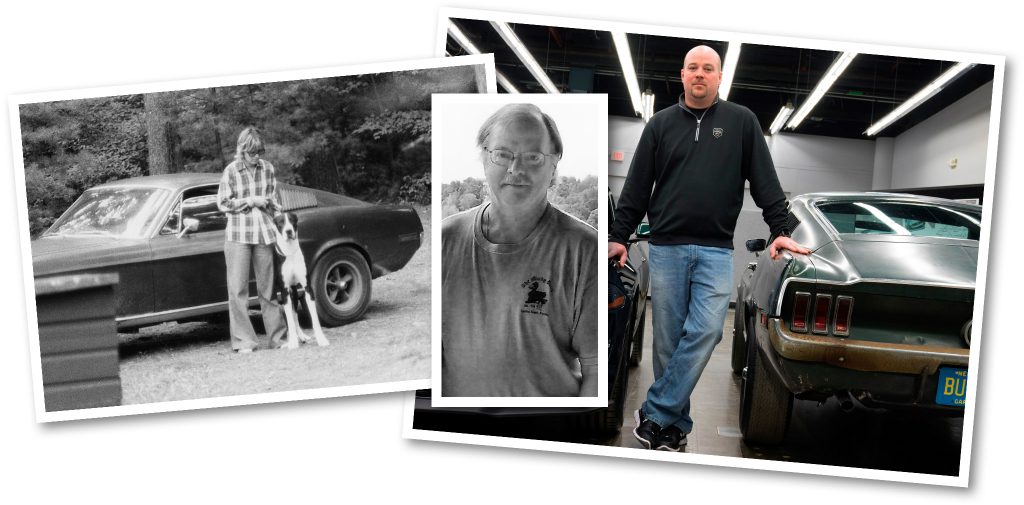 The charity, which supports Parkinson's Disease research and patient care, will be raffling off the watch through the end of January, with all proceeds to benefit the Michael J. Fox Foundation in memory of Sean's father, Robert E. Kiernan Jr., the owner of the famed Bullitt Mustang since 1974 and who was increasingly challenged by Parkinson's from the time of his diagnosis in 2000 until his passing in 2014.
"Our mission for Drive Toward a Cure has always been to broaden the awareness of and raise funds for Parkinson's disease by blending cars and camaraderie," said Deb Pollack, founder of Drive Toward a Cure. "When Sean and I first met, we realized we had more in common than cars – as we both had struggled through the loss of a parent to Parkinson's Disease. Fortunately, the timing of the attention his car was receiving this particular year offered a perfect pathway to gain the further attention this disease deserved."
Capitalizing on the 'Year of the Bullitt' and the movie's 50th anniversary, Pollack joined forces with Frederic Gasser, CEO of the America's for BRM Chronographes, and longtime industry friend Nicolas Hunziker, to launch a special one-of-a-kind offering. Hunziker, who was already aligned with BRM, is uniquely qualified to hand-paint the famous vehicle on a single chronograph that carries an anticipated value of more than $35,000. Pollack believed a raffle, offered at $25 per entry, could capture the hearts of a broader audience and increase donations for the cause. Each $25 donation made online at www.drivetowardacure.org or through a Drive Toward a Cure volunteer will be entered in the raffle, with an anticipated winner to be announced by Sean Kiernan during the Grand National Roadster Show in Pomona, California on January 27, 2019, where the original Bullitt car will be displayed. Pollack's goal is to reach 1,968 entries.
Full information about the Bullitt 50 Choronograph can be found at www.drivetowardacure.org/bullitt.
Sean Kiernan honored his father by revealing Bullitt to the world earlier this year along with Ford for the 50th anniversary of the movie and launch of the 2019 Mustang Bullitt. Kiernan noted that along with reintroducing Bullitt to the world, he wanted to continue to do what he believed his Dad would want — and that is to bring awareness of Parkinson's Disease and Drive Toward a Cure.
According to Kiernan, it's been a wonderful year of celebration for both his father's memory and the Bullitt. The car itself will continue its road show at SEMA later this month and conclude the year with events on the west coast as well as a showing in January at the Grand National Roadster Show.
BULLITT 50 TIMEPIECE
Model no. R1246BULLIT
Hand painted dial by Nicolas Hunziker
Limited edition: One of one
Automatic chronograph
46mm case made from a single block of Fortal HR (aluminum)
Crystal sapphire front and back
Screw down crown
Water resistant to 100 meters
Manufactured and assembled by hand in France
Full 5-year warranty
About Drive Toward a Cure:
The Drive Toward a Cure program pursues an alternative to the numerous 'for profit' rally driving programs through the creation of events that team cars and camaraderie to raise funds in support of the challenges of Parkinson's Disease, benefiting research and patient care. Drive Toward a Cure is a 501 (c ) (3) non-profit, with events that are carefully designed to provide a premium experience while raising much-needed funds to continue the search for a Parkinson's cure, through beneficiaries The Michael J. Fox Foundation and The Parkinson's Institute and Clinical Center. For donations, sponsorship and event registration, please visit www.drivetowardacure.org.
About Parkinson's Disease:
Parkinson's Disease (PD) is a chronic and progressive movement disorder, meaning that physical symptoms continue and worsen over time. Nearly one million people in the US are living with Parkinson's disease. The cause is unknown, and although there is presently no cure, there are treatment options such as medication and surgery to manage its symptoms.
About BRM Chronographes
Launching the company's first signature chronograph in 2003, Bernard Richards combined his passion for motorsports and engineering expertise to build the ultimate wristwatches for racing enthusiasts, as well as collectors of rare and genuine timepieces.
Now celebrating more than a decade of mechanical leadership, BRM continues its unwavering dedication to quality over quantity and has gained global recognition with a presence in more than 20 countries and establishing partnerships with tracks, teams, drivers and motorsport icons including Abarth, Corvette Racing, Gulf and many more.
BRM blends hands-on assembly with manufacturing processes that are on par with nanotechnology to craft limited-edition models that are never mass produced, and the label adheres to a self-imposed production limit of just 2,000 timepieces annually. For more information: www.brm-manufacture.com.
About Nicolas Hunziker
Professional automotive fine artist Nicolas Hunziker, a fourth generation classically trained painter and alumna of Pasadena's Art Center College of Design, can create any piece on commission, ranging in size from 50-ft murals to one-off hand-painted wristwatch dials. His artwork has been both officially licensed and commissioned by Porsche AG, with one of his original paintings to be displayed in the Porsche Museum in Stuttgart, Germany. Additional licensing agreements include Gulf Racing, McLaren, Steve McQueen, McQueen Racing, Porsche Club of America, Fiat Abarth and numerous other historic motorsports brands.
Hunziker's latest project is a collaboration with French watch company BRM Chronographes. Together they created the Hunziker BRM Art Watch: The World's first automotive fine art chronograph A series of commissioned one-off, hand-painted dials that are encompassed in custom BRM cases, each watch is available exclusively by commission. Every one-of-a-kind timepiece is designed around a hand-painted dial, often considered the "canvas," and set within a unique BRM model, which serves as the "frame." For more information: shophunziker.com.
# # #