FOR IMMEDIATE RELEASE
Contact: Deb Pollack, founder Drive Toward a Cure
(t) 805.320.9248 (e) deb@drivetowardacure.org
NATIONAL FOUNDATION DRIVE TOWARD A CURE ENCOURAGES CAR ENTHUSIASTS NATIONWIDE TO TAKE THE ROAD LESS TRAVELED
'75 Days of Summer' Program Returns for 4th Year – Fueled by Hagerty, and with $15K of Prize Giveaways
JUNE 16, 2023 – LOS ANGELES – Entering its fourth year, the Drive Toward a Cure '75 Days of Summer' national fundraising endeavor begins on Father's Day (June 18th) and lasts through Labor Day weekend. It encourages driving enthusiasts to get out and do what they enjoy most – to 'get out and drive!'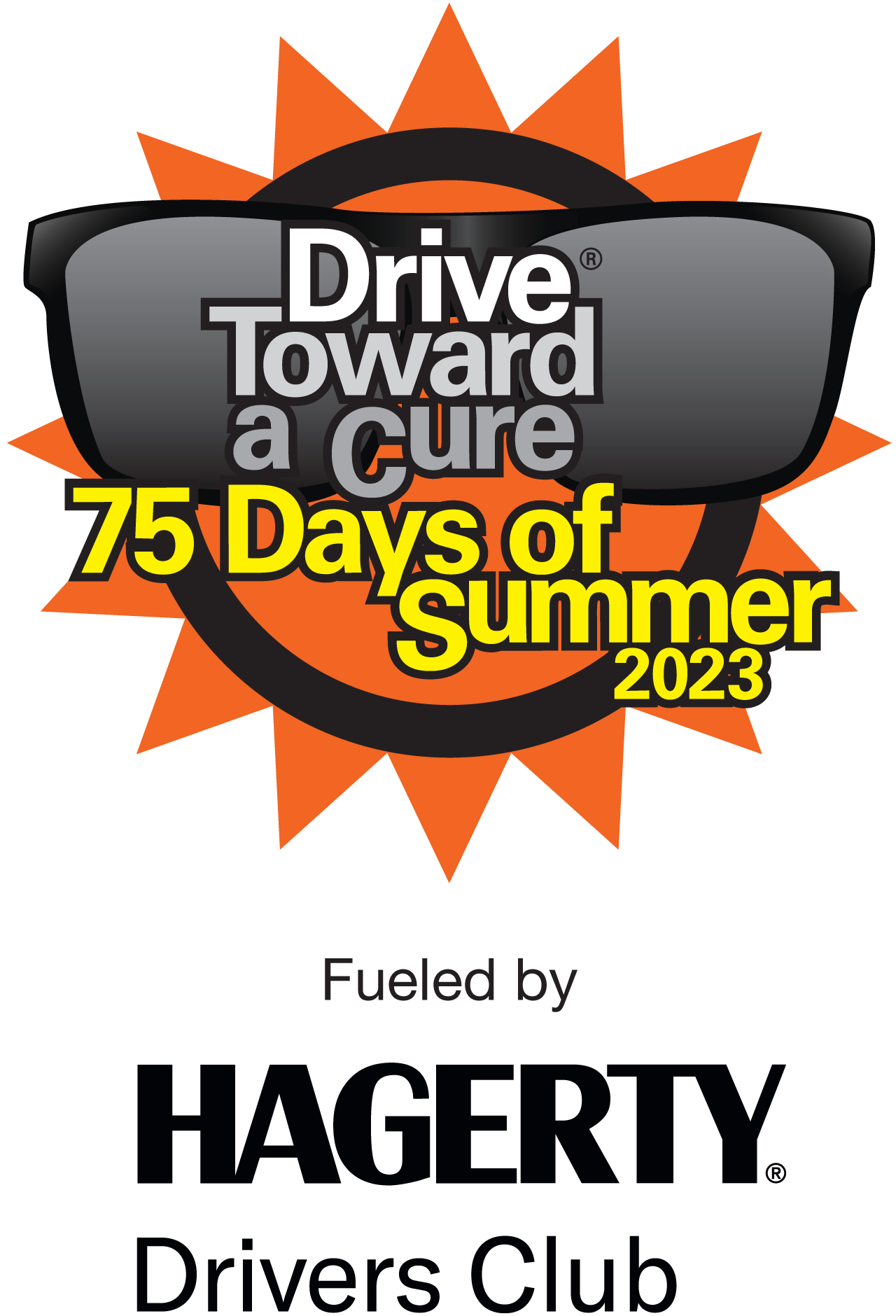 The annual program provides multiple chances to win prizes, see roads less traveled, enjoy friends and colleagues, and explore the freedom to simply drive – and all while supporting Parkinson's Disease patient care and research.
Fueled once again by Hagerty Drivers Club, the '75 Days of Summer' program began as a means for individuals to escape from isolation during the summer of 2020, but has become an annual competition that to date has raised nearly $100,000 for Parkinson's disease.
According to Deb Pollack, founder of Drive Toward a Cure, each year the enthusiasm and participation has grown, originally from only individuals to now include clubs and groups, and this year, an additional separate competition was created to include university Formula SAE team members.
"Our original success stemmed from reaching out to car clubs nationwide and through social media channels," said Pollack. "This year, we additionally have aligned with 20 university Formula SAE teams that originally signed on to provide awareness through their race vehicles – and now the students are coming forth to create larger fundraising efforts."
Sponsors such as Michelin and Shell/Pennzoil have participated since the program's inception, bolstering Grand Prize offerings, as well as long-standing contributions to the foundation since Drive Toward a Cure's initial driving events in 2017. This year, additional Grand Prize sponsors for the 75 Day driving program include Radford Racing School, NCM Motorsports Park, Xtreme Xperience, GrandPrix Originals USA, and Katzkin Leather – with JBL, 000 Magazine, Audrain Motorsport and the Ingram Collection contributing to weekly random prize draws every Friday.
Student teams competing in the 2023 Formula SAE Challenge category will vie for a team prize that includes a virtual meeting with industry leader, award-winning journalist and Porsche expert Pete Stout, co-founder, and editor-in-chief for 000 Magazine; a pizza party at the team's home location; and a JBL sound system with microphone worth $400 for the team to keep!
Individual prizes for the student competition include a One-Day Skip Barber Racing School and a Gold Level Voucher for one Xtreme Xperience racetrack driving experience.
About Drive Toward a Cure:
Drive Toward a Cure raises funds and awareness for Parkinson's Disease research AND patient care. Inspired by the camaraderie found within the automotive culture, the organization's mission benefits equally from both enthusiast communities and industry professionals. Drive Toward a Cure events harness enthusiasm for cars and driving and turn that power into support for ongoing work to improve the lives of those living with Parkinson's, as well as the research that will hopefully one day lead to a cure. Since 2016, Drive Toward a Cure has raised more than one million dollars to support BOTH research AND patient care.
Drive Toward a Cure is a 501(c)(3) non-profit supporting beneficiaries including The Michael J. Fox Foundation, the Parkinson's Foundation, and numerous Centers of Excellence for Parkinson's. For donations, sponsorship and event registration please visit www.drivetowardacure.org.
About Parkinson's Disease:
Affecting nearly one million Americans and 10 million worldwide, Parkinson's disease is the second-most common neurodegenerative disease after Alzheimer's and is the 14th-leading cause of death in the United States. It is associated with a progressive loss of motor control (e.g., shaking or tremor at rest and lack of facial expression), as well as non-motor symptoms (e.g., depression and anxiety). There is no cure for Parkinson's and 90,000 new cases are diagnosed each year in the United States alone.
# # #