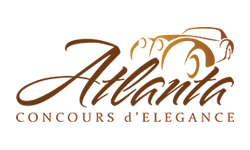 FOR IMMEDIATE RELEASE
Contact: Deb Pollack, Media Relations
(e) deb@debpollack.com (t) 805.320.9248

ATLANTA CONCOURS OFFERS VIP PACKAGE TO TIE IN WITH CHARITY RALLY
Drive Toward a Cure's 'Great Southern Adventure' Culminates with Weekend Event in Atlanta
ATLANTA, GA., July 31, 2017 – When rally participants from Drive Toward a Cure's 'Great Southern Adventure' 3-day charity ride arrive in Atlanta, an additional adventure will just be starting as the Atlanta Concours will be offering entrants a special VIP package that includes displaying their car on the show field to help kick-off the 2nd Annual Atlanta Concours d'Elegance at Chateau Elan in Braselton, September 30-October 1.
The non-profit driving program that blends cars and camaraderie through driving/rally programs throughout the nation to benefit Parkinson's Disease research and patient care, will begin in Asheville, NC earlier that week with an expected convoy of 30 vehicles ranging from vintage to luxury/exotic. Registration for the 'Great Southern Adventure' has limited spots remaining at www.drivetowardacure.org and benefits both the Michael J. Fox Foundation and the Parkinson's Institute and Clinical Center. The Atlanta Concours is pleased to have negotiated a $250 discount on the registration fee that can be realized using the code ATL250. (http://drivetowardacure.org/emails/2017/07/dtac-201707-atlanta-concours.html)
"Our show draws car collections from throughout the entire Southeast area and then some," said Bill Wallet, co-chairman for the Atlanta Concours. "Teaming with Drive Toward a Cure not only supports a wonderful cause, but offers another great reason for our guests to come from far and wide to enjoy the unique collectibles we are offering while broadening the spectrum of their involvement."
And while the 'Great Southern Adventure' is not restricted to only those showing vehicles in the Concours, Wallet noted it's a great way to enjoy one's own car on the way to the Concours — or perhaps to simply relax and enjoy the journey to Braselton, knowing that your Concours entry vehicle will be waiting for you when you arrive. Joining the drive will be Head Judge for the Atlanta Concours and host of Velocity's 'What's My Car Worth,' Keith Martin, along with a significant entry of a 1969 award-winning Iso Grifo, driven by Martin's Sports Car Market colleague Darren Frank, owner of the vehicle.
For entrants of Drive Toward a Cure, as well as those interested in obtaining the special VIP weekend package through the charity, a limited amount of tickets have been reserved and can be purchased at https://www.drivetowardacure.org/great-southern-adventure-atlanta-concours-vip-package/ . The exclusive package is offered at $390 per person as a 'VIP Weekend Pass', while a separate Saturday evening hotel stay at the Chateau Elan can also be reserved through Drive Toward a Cure – the only way visitors can reserve a room for Saturday night at the Chateau Elan, host site of the Concours, as all remaining rooms have been spoken for. Atlanta Concours VIP Weekend Pass includes:
Admission for one adult to both Saturday and Sunday shows,
Placement of your car on the Saturday show field within the Drive Toward a Curearea
Access to VIP Tent including premier seating,
Continental breakfast, lunch, and complimentary beer, wine or non-alcoholic beverages (two per day),
Admission to "Shifting through time…a celebration of the journey of the Automobile" at the Decades Club on Saturday evening (8-11pm) honoring Bob Varsha and benefiting the Atlanta Community Toolbank.
The Drive Toward a Cure concept, as an alternative to 'for profit' driving programs, began as an opportunity to grow interest in the Parkinson's cause among automotive aficionados and potential automotive sponsors. It quickly blossomed into a full 3-day event, becoming well known for its warmth, camaraderie and fundraising efforts.
This past April, Drive Toward a Cure held its inaugural 'California Adventure' — selling out at 36 entrant vehicles (ranging from vintage to modern day luxury/exotic), covering nearly 600 miles and raising over $26,000 for Parkinson's Disease. The organization expects to continue raising funds at an even higher level. For a better understanding, please view https://lnkd.in/eyWaU6J
Drive Toward a Cure's 'Great Southern Adventure' road rally will begin at the Omni Grove Park Inn in Asheville, NC, continuing through exceptional driving roads along the scenic Blue Ridge and Smoky Mountains that will end at the Chateau Elan in Braselton.
Current registrant vehicles include modern day Porsche, Ferrari and Corvette sports cars, as well as an award-winning 1969 Iso Grifo. All levels of drivers and vehicles are encouraged to join through participation and/or donation at www.drivetowardacure.org.
ABOUT THE ATLANTA CONCOURS:
Founded by Co-Chairman Harry Krix, and Co-Chairman and COO Bill Wallet, the Atlanta Concours d'Elegance is the first premier automotive event to grace the metropolitan Atlanta region and will include 150 vintage and collectible entrant vehicles, as well as approximately 200 rare and high-interest privately owned automobiles on display. Krix and Wallet are lifelong friends and business associates who joined together three years ago to realize their dream of producing a major classic automobile event such as the Concours d'Elegance for the Atlanta community. More information can be found at www.atlantaconcours.org.
Twitter: @ATLConcours Instagram: @ATLConcours
Snapchat: ATLConcours Facebook: /atlantaconcours
ABOUT DRIVE TOWARD A CURE:
The Drive Toward a Cure program pursues an alternative to the numerous 'for profit' rally driving programs through the creation of events that team cars and camaraderie to raise funds in support of the challenges of Parkinson's Disease, benefiting research and patient care. Drive Toward a Cure events are carefully designed to provide a premium experience while raising much-needed funds to continue the search for a cure, through beneficiaries The Michael J. Fox Foundation and The Parkinson's Institute and Clinical Center. For donations, sponsorship and event registration, please visit www.drivetowardacure.org.
# # #